Plane with Broken Wheel Overshoots Runway at Papua Airport
18 August 2019 11:00 WIB
TEMPO.CO, Papua - A Demonim aircraft, with 11 passengers and crew members aboard, skidded off the runway at Mulia Airport in the easternmost Indonesian province of Papua on Saturday after its left wheel got broken.
The aircraft, with flight number PK-HVL, skidded off the runway while landing at the airport at 12:30 WIT (East Indonesia Standard Time) on Saturday, Chief of the Puncak Jaya Police Resort, Adjunct Senior Commissioner Ari Purwanto stated.
"It is true that the plane plying between Jayapura and Mulia met with an accident while it was landing at Mulia Airport, as its left wheel was broken," he explained.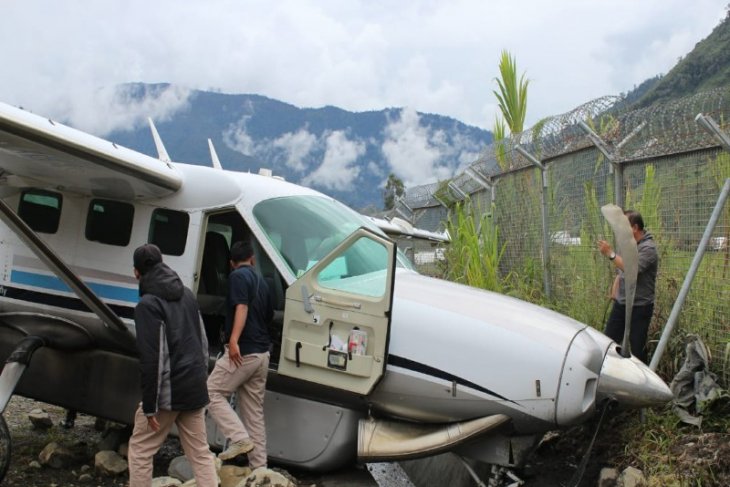 As a result, the pilot, identified as Jhonny ST, lost control of the aircraft, thereby resulting in the plane colliding with the airport's separating wall, he explained.
No injuries or fatalities were reported in the accident, he remarked, adding that the left wheel and front propeller of the aircraft had got damaged in the accident.
None of the passengers sustained injuries. However, they were in a state of shock and have been evacuated from the aircraft, he pointed out.
The passengers and crew members of the ill-fated aircraft are identified as Pilot Jhonny S.T, FO Firman G, 1st Brigadier Widhi Nugraha, Romoaldus, Yohanes, Tekimin, Nelson Wonda, Tonen Kogoya, Junedi L, Menenak. E, and Tewingga.E.
ANTARA