Spiderman, Gatotkaca Voted in the Indonesia Election 2019
17 April 2019 16:26 WIB
TEMPO.CO, Jakarta - Two superheroes, Spiderman and Gatotkaca, was observed entering the Pematang Kapau, Pekanbaru, 01 polling station (TPS) to vote for the Indonesia elections 2019.
The initially uneventful TPS suddenly became the center of attraction after the two international and local superheroes parked their motorcycles near the polling station.
As it turns out, Spiderman and Gatotkaca were two men working for Riau Kostum, a costume rental in the region.
"Why don't you vote? Superheroes do it," said Ahmad Yani, the person behind the Spiderman costume.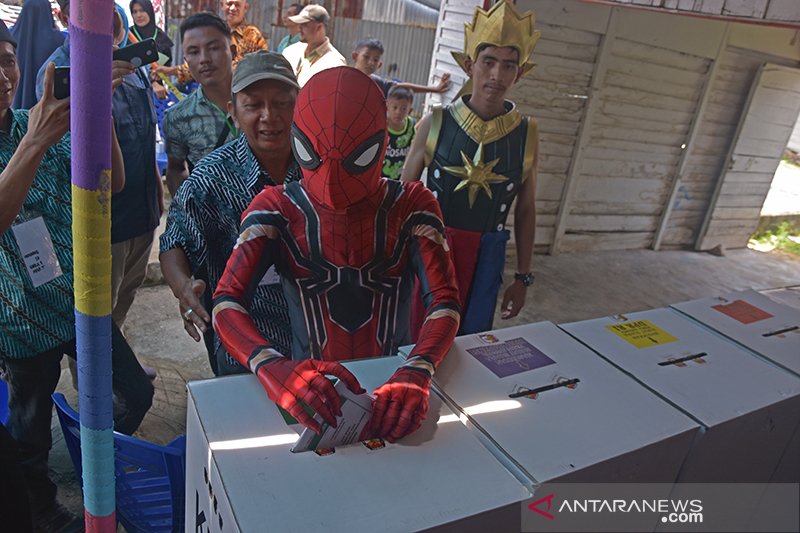 Responding to their arrival, the TPS' committee members treated the men as any other voters and forced the superheroes to queue in line together with other voters who arrived at the place earlier.
Asked about his intentions on wearing the costume, Ahmad Yani said that he hopes that it would at least catch the public's attention and attract people to vote and improve voters' participation and avoid abstention.
Read also: Quick Count: Jokowi Beats Prabowo with 55 Percent of Votes
"We were a little embarrassed, but it's just what it is. We also want to entertain other people," said Ahmad.
Rizki, who wore the Gatotkaca costume, revealed that they prepared the plan just one day earlier and were certainly helped by the permit from the costume rental store and from TPS committee members.
ANTARA